SUSTAINABILITY COMMITMENT – The Three Pillars
ExcelVite is committed to providing our customers with the highest quality products while simultaneously working to ensure that our products are produced in a sustainable manner.
In our effort toward achieving a Sustainable Business, we are committed to maintaining a balance between the Economic, Social and Environmental sustainability around us.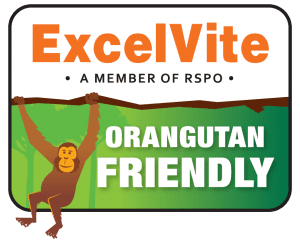 The "Orangutan-Friendly" logo represents continuous efforts by ExcelVite to uphold our sustainability practices and commitment to protect the environment and precious wildlife of Malaysia – especially the orangutans. The production process of all ExcelVite's products do not pose risks or harm to the environment.